BURN Cigars Has New Products Arriving All The Time!!


Check Here Regularly to Discover The Latest Additions to Our Inventory of Over 750 Different Cigars!!



CAVALIER GENEVE CIGARS
see the Halfwheel review halfwheel.com/cavalier-geneva-black-series-ii-robusto-gordo/174127/
Known for their signature "gold leaf" labels, Cavalier Cigars offer a rich, smooth draw and flavor at an affordable price point.
Our staff and regulars are growing attached to this new addition to the humidor - try one today!
BURN is carrying a full selection of Cavalier:
White Series - Honduran-grown Connecticut Shade wrapper (mild-medium)
Black Series - Mexican San-Andreas wrapper (medium - full)
BII Viso Jalapa - Nicaraguan Jalapa (medium - full)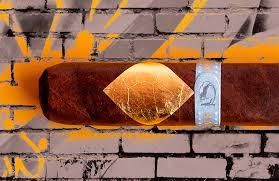 UNDERCROWN ALL DEKK'D OUT - 10TH ANNIVERSARY MADURO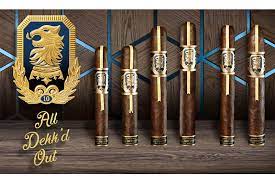 For fans of Drew Estate's wildly popular Undercrown series, All Dekk'd Out is a step above - rich, smooth, decadent. We've almost exhausted our supply already, but we're getting as much of this Anniversary release as we can. Come in and try one of the better medium-full maduro blends on the market today...all dekk'd out in a really cool, eye popping blue and gold foil package.
ADVENTURA THE KING'S GOLD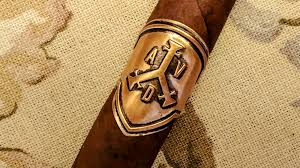 The "crown jewel" of Adventura's Royal Return line, the King's Gold is most commonly known as "that cigar with the metal band".
Well, it's not actually metal, but the unique band isn't the story. The story is the super easy draw and creamy rich smoke, featuring just a little punch of red pepper spice mixed in with a blend of earth and chocolate. If you haven't ventured in to the ADV world of cigars, this one will capture your attention and make you a fan. Supplies are limited - ask for one today.



LA PATISSIER by CROWNED HEADS
Our staff pick for new cigar release of the year in 2021, La Pattisier is an extension of the wildly popular La Careme line by Crowned Heads.
Offered in a beautiful lonsdale/lancero size, the flavors from this cigar are exquisite - smooth, sweet and beautifully medium.
It's a stick that will appeal to most any palate, and buyers have come back for more after trying it. We were lucky enough to get 6 more boxes
after the original release sold out in weeks, and this popular stick is in stock today.